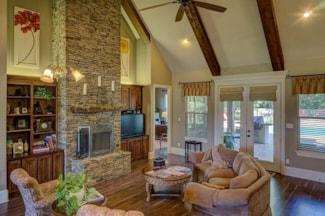 Homeowners often live under the false impression that keeping a clean house is an endless uphill battle. Sure, the amount of work necessary to ensure cleanliness can increase the longer you put off the inevitable. But there are ways you can maintain vigilance and avoid a seemingly impossible whole-house clean. Here are 5 secrets to keeping your home clean:
Make a Schedule – You don't need to do everything in one day. You live a busy life and vacuuming the entire house, for example, after working a long day is daunting. Plan to do a little bit of upkeep each day, and you'll keep the mountain of tasks from growing.
Don't Clutter – An unkempt home is often simply a matter of not putting things away. Leaving shoes by the door or towels on the floor contributes to the perception. Make a point of putting things in their right place and avoid building clutter.
Do the Dishes – What seems like a simple process can evolve into a nightmare. A pile of dishes in the sink or around the kitchen contributes to a feeling of being overwhelmed. Do the dishes every day, and you'll see and feel the difference.
Assign Tasks – You don't need to be a one-person crew. If your family makes the mess, they can help to reduce it, too. Spouses can help with laundry or making the bed. Kids can clean their rooms and tidy up the bathroom. Don't be afraid to delegate.
Ask for Help – Sometimes you may feel the burden is too great. In that case, there's no reason you can't ask for help by hiring an established house cleaning service to carry the load. Accent Maid Service offers trained service providers at affordable rates to simplify your life.
Which tip will you implement first to keep your home, apartment or condo clean? If you live in Noblesville, Whitestown, Fishers, Carmel, Zionsville, Westfield, or northern Indianapolis, we can help with #5. Whether it is a one-time deep clean or on-going services, we can make your residence sparkle.