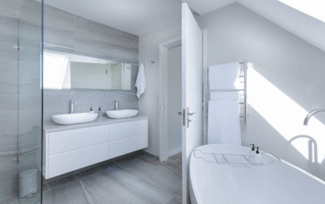 Cleaning is a chore. Cleaning a bathroom is something more. While tasks like dusting and vacuuming may not be your ideal way to spend time, they can be somewhat satisfying. But for many people, cleaning a bathroom is one of the least appealing aspects of tidying up. Fortunately, there are steps you can take to make the process less disagreeable.
Below are 7 keys to cleaning a bathroom:
Keep Current – Dust and hair tend to pile up in a bathroom if you're inattentive. Collecting hair after shaving or sweeping up dust bunnies every couple of days will make the process less daunting.
Wipe Down the Shower – The average person leaves their shower in constant disarray. You can help with long-term cleanliness by wiping down shelves and the shower door after each use.
Pick Up Towels – Tossing your towels on the floor is standard practice at a hotel. At home, however, it's a bad idea. Hang up towels or place them in a laundry basket.
Don't Avoid the Toilet – Perhaps the least enviable task in bathroom cleanliness is cleaning the toilet, but someone has to do it. Scrub it down once a week to keep it decent.
Wipe the Mirrors – Toothpaste, dust, and water spots will accumulate on mirrors. A simple way to keep your bathroom presentable is to make sure the mirrors don't become dirty. Wipe them down occasionally.
Mop Up – Bathroom floors need care just like any other flooring surface. A solid mopping is advisable every couple of weeks to keep the filth from becoming a burden.
Hire It Out – If the prospect of cleaning your bathroom is just too much, you can always hire a home cleaning service to give it the polish it needs. Accent Maid Service has more than 37 years of home cleaning experience.
Are bathrooms in your home ready for a thorough cleaning? We offer variety of services, which also serves as our cleaning checklist. Need a reset so you can go it alone? Or, just want to not have to worry about your bathrooms? Accent Maid Service can help either way.
For your quick and effortless quote, call us 317.255.6001.
Or, fill out our form to get your estimate.
Accent Maid Service serves Fishers, Indianapolis, Noblesville, Westfield, Whitestown, Carmel, Zionsville, and anywhere in between.