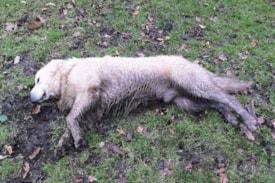 What's something residents of Carmel, Nora, Zionsville, and other Indianapolis communities have in common? We love our dogs! However, we don't love the mud they track in our homes when the winter weather turns soggy. When your dog or dogs track mud into the house, you may naturally be concerned your dogs will track that mud, dirt, and debris to your hardwood floors, carpeting, and furnishings.. You can stop dogs from bringing mud into your home by keeping the following tips in mind.
Stop Dogs Bringing Mud Into House
Your home's doggie door is a convenient feature, but not on rainy days! If your back yard has a tendency to become muddy during our winter rains and intermittent thawing periods, you may want to lock your doggie door and walk the dog instead. If you do walk the dog, be sure it sticks to the clean sidewalk as much as possible so that it doesn't track dirt back into the house. You might also want to fence your back patio or a grassy enclosure so that when your dog uses its doggie door, it only has access to a mud-free part of your yard.
Dog Tracks in Mud and What You Can Do about It
When your yard is muddy, you can prevent your dog from tracking in mud by training it to step on a door mat. In fact, use a double mat system; keep a mat outside and inside the door. You can also use old towels as a runner from the door to help sop up those wet, muddy dog tracks. Keep a rag near the door so that you can wipe your dog's feet when they enter the house. Some people prefer to set up barricades so that dogs' paws have a chance to dry.
Accent Maid Service: Pet-Friendly House Cleaning Services
Muddy dogs can foul up our clean interiors quickly. Accent Maid Service provides these cleaning services for your house, or apartment. We can help you with routine cleaning or a one-time cleaning. We love dogs, but we know how muddy paws can dirty floors, carpeting, and other household features. Let us help you reset your home's clean environment during the wet months of winter.
Schedule your pet-friendly cleaning today.