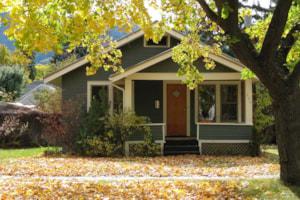 It's true – more square footage equals more space to keep clean. But those who opt for a smaller, bungalow style house have their own set of cleaning challenges. Dust and dirt have less space to hide, so a lack of tidiness can be even more glaring. If your home fits the bungalow or cottage mold, here are a few tips to keep your living space spic and span:
Focus on the Details – Many bungalow-style construction homes – whether they're classic homes in Meridian-Kessler, Butler-Tarkington, or Carmel, or new construction in Zionsville and Fishers – have similar features. Built-in cabinets and bookshelves, open floor plans, and quirky design elements are aspects that often set them apart from other structures. Conversely, these features are also what make cleaning them tricky. More dust accumulation and fewer areas for debris to hide are typical cleaning hurdles. Whether you clean your home or hire a professional cleaning provider like Accent Maid Service requires awareness of these concerns.
Don't Forget the Stairs – Bungalow and cottage-style homes will often have lofts, small second floors, or basements. Stairs are dirt magnets, so it's imperative you don't overlook their ability to collect filth.
Rugs and Furniture are not Exempt – Dust and dirt aren't exclusive to nooks and crannies. Rugs and sofas are just as guilty of collecting layers of grime in a small space. You must allow time for rugs to be cleaned and furniture to be fluffed.
Of course, you could choose to leave these concerns to the professionals! We understand a one-size-fits-all style of cleaning doesn't work when living in this style of home. Our trained staff understands the nuances of cleaning a bungalow compared to larger homes. Let Accent Maid Service tailor a plan for your home's unique needs. Click here to contact us today.