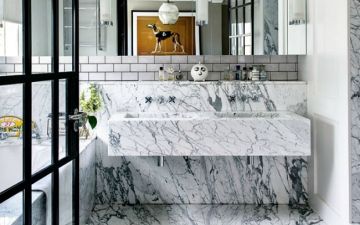 One of the biggest mistakes house cleaning services make when servicing a home is not caring for marble properly. Marble provides homeowners with a classically beautiful appearance. The unique shades and patterns provide an elegance to your countertop or tile that is unmatched when compared to more durable materials. But marble also requires a heightened level of maintenance awareness to ensure it retains its luster. Here are some key do's and don'ts when caring for marble:
Always Use Hot or Warm Water to Clean – Marble is extremely sensitive to cleaning agents. You never want to use chemicals, vinegar, or wax as they will leave splotches and etching marks. Some products are specifically noted as marble cleaners, but your best bet is still simple hot water.
Always Dry Wet Spots – After you've cleaned marble with hot water, don't forget to dry it immediately. Leaving wet areas can result in spotting or rings, which can be difficult to remove.
Always Use a Soft, Clean Microfiber Rags and Mops – Dust and hair will gather on marble, as with any other similar surface. Abrasive sponges or brushes can scratch the marble. Soft microfiber rags and dust mops are less likely to leave smudges. Also make sure your rags and mops are clean – any residue from chemicals or vinegar not fully washed away can leave marks.
Never Run a Vacuum on Marble – Vacuums – and many of their attachments – can leave scratches on marble and ruin its polished appearance. If you want to use a vacuum to clean hard-to-reach places, choose the hose attachment and gently run it along edges and corners. But never scrape the marble!
Never Place a Rug or Rug Pad with Rubber Backing on Marble – Rubber should never touch your marble floor. Prolonged exposure by the rubber from a rug or rug pad on the marble can lead to discoloration.
Never Let Pets Have Free Reign on Marble – Dogs and cats can cause enough damage to your home, but they're especially tough on marble. Pet urine, for example, must be cleaned immediately from marble or the acid in it will eat into the finish. If you can't avoid having your pets near marble, do your best to monitor its condition.
At Accent Maid Service, we train all of our employees to properly care for marble. On the rare occasion when we encounter damaged marble, we recommend Mr. Marble. For more than 30 years, he has successfully assisted Indianapolis homeowners with their marble polishing and repair issues.
Need a Local Cleaning Service You Can Trust?
Are you in need of a home cleaning service with experience caring for marble? To learn more about Accent Maid Service, click here. We've been providing quality home and apartment cleaning in Indianapolis and surrounding areas (Carmel, Zionsville, Westfield, Fishers, Noblesville, Whitestown, Lawrence, Meridian Hills, Broad Ripple, Nora, Downtown, etc.), for over 34 years and would enjoy the opportunity to work for you.