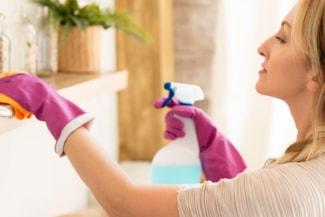 Not all cleaning services are cut from the same cloth. As in every industry, name-brand house cleaning companies often have a larger footprint in the popular conscience. But just because you recognize a company name doesn't mean they're good at what they do. Below are 5 reasons to hire an independent cleaning service:
Customer Support – National cleaning services are designed to run through established processes. Unfortunately, that can mean difficulty connecting with live service personnel when issues arise. An independent cleaning service like Accent Maid Service provides local, accessible support, during business hours.
Insurance – National chains sometimes let the insurance and bonding aspects of their business fall through the cracks. Should a problem arise – getting them to accept responsibility and rectify the situation can be an uphill climb. In the unlikely event damage occurs in your home, caused by one of our employees, we're fully insured and bonded.
Supply Oversight – Our employees aren't permitted to use just any products in your home. As an independent housekeeping service, we approve all products before they're applied.
No Subcontractors – National chains farm out their work to subcontractors, which allows them to feel absolved from blame should there be a negative outcome. All of our employees work directly for Accent Maid Service. They're responsible for living up to our name when working in your home.
Reputation – Accent Maid Service has been a foundation of the Indianapolis cleaning community for 35 years. Our success didn't happen overnight – we worked at building our reputation for more than 3 decades.
Is it time your Zionsville, Carmel, Nora, or Westfield home received a thorough cleaning? Connect with us today to find out more about our menu of cleaning services.
---
Accent Maid Service provides professional home cleaning, small business, and rental cleaning. We've been providing the best cleaning services to the Indianapolis, Indiana metro area for over 37 years.